DISCLOSURE: THIS POST MAY CONTAIN AFFILIATE LINKS, MEANING I GET A COMMISSION IF YOU DECIDE TO MAKE A PURCHASE THROUGH MY LINKS, AT NO COST TO YOU. PLEASE READ MY DISCLOSURE FOR MORE INFO.
My Favorite Traffic Sources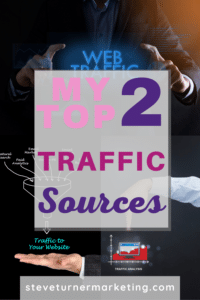 The lifeblood of your online business is traffic.
A well-crafted website or sales funnel promoting an incredible offer will not generate any sales if the right people are not seeing it.
One of the biggest obstacles facing affiliate marketers, experienced or just starting out, is traffic.
Traffic is generally classed as either free or paid. However, it actually all has a cost.
Organic traffic, also called free traffic, is paid for in time, while paid traffic is paid for with money.
 I believe Russell Brunson best described traffic sources in the following three categories.
The traffic 

you control.

The traffic 

you don't control.

The traffic 

you own.
Traffic Sources You Control
This is the traffic you can direct where you want it to go. 
Paid advertising gives you the ability to direct to your website or a link of your choosing.
You don't own this type of traffic, but you can control the scale by the amount you are willing to pay.
Examples of this are:
Banner advertising

Pay-per-click advertising

Email advertising (solo ads)

Native advertising
It is highly recommended you master the skill of paid advertising. 
Traffic Sources You Don't Control
This is the traffic you obtain from your organic efforts. 
It's unpredictable when this traffic will show up or how much you will receive, as many factors are beyond your control.
Examples include:-
Social media

Blogging

Search engine optimisation (SEO)

Forums

Video sharing sites
This type of traffic builds over time when you produce quality content consistently, and people get to like and trust you.
Traffic Sources You Own
The holy grail of traffic sources and what all the other forms of traffic should be directed towards.
You have already paid the cost for the traffic, and you can communicate with it whenever you want.
You can share valuable content, give advice and make relevant offers to this traffic without costing you more.
This can include in some way fans/followers of social media platforms or Youtube subscribers.
BEWARE, you never fully own this traffic, and if the platform goes, so does the audience.
Therefore, the only way you can truly own traffic is to capture and store the contact information of the people in your audience and have permission to communicate with them.
"The money is in the list."
The 2 Best Ways To Get Traffic
There are numerous ways of generating traffic, which all have their own pros and cons. 
I have only listed 2 methods I use. One paid and a free traffic source that I use.
I have found these two traffic sources to be the easiest and most effective to use without the huge learning curve of some other methods.
#1. Solo Ads
These are typically dedicated emails sent on a solo ad providers list, with your advertisement being the only content.
The links in the ads are to drive traffic to your website or funnel. 
This traffic source is delivered very quickly and is easy to scale.
While you may obtain sales from solo ads, the primary goal is to build your email list.
Nurture and engage with your new subscribers to build a relationship so eventually, they will be open to your offers.
Before committing to large traffic orders, test your offer with the different providers with small lots of 100 – 200 clicks and see who converts the best.
The following are my top 3 solo ad providers I have had the most tremendous success with.
1. James Neville-Taylor (TYBL) – This is the most expensive but responsive traffic. James has 2 levels of Traffic, Premium and Premium PURE Buyers traffic.
Check the TYBL Traffic – Limited Special Offer
2. Mark Haydin – Provides high-quality Premium traffic from 100% Tier 1 countries in affordable packages.
View Mark's Best Solo Ads Here
3. Traffic Domination – Wayne Crowe specialises in high-quality traffic for the biz opp and make-money-online niche. He has the newest and best converting strategies to generate quality clicks.
#2. FREE Traffic From Facebook
Facebook has long been the go-to place for beginners to start their organic traffic efforts.
Wayne Crowe and Manny Hanif use traffic from Facebook every day to generate a ton of leads and sales.
This simple point-and-click strategy requires NO INVESTMENT, NO PAID Ads, and is 100% newbie-friendly.
Traffic Nemesis is 

a battle-tested system

 showing how to get you free organic traffic!

With Traffic Nemesis, you get a 

step-by-step

 money-making system that shows you what's working in 2021.

Inside, access the training, insider secrets, and a simple way to monetise your traffic and leads.

You don't need any prior experience, tech skills or spend a lot of time on this.
Automated Daily Leads With The Traffic Nemesis System – WITHOUT Spending A Dime On Traffic.
Summary
There are of course many more traffic sources you could use, however, to get up and running in the shortest possible time with the smallest learning curve, these are my two favorites.
I hope you found my two favorite traffic sources helpful. Please like, share with anyone this might be of interest to and pin.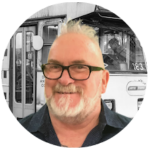 Hi, my name is Steve and I would love to help you with affiliate marketing.  If you are interested in making money online and living the lifestyle you would like, please check out my other posts.
Please leave your comments below.
DISCLOSURE: THIS POST MAY CONTAIN AFFILIATE LINKS, MEANING I GET A COMMISSION IF YOU DECIDE TO MAKE A PURCHASE THROUGH MY LINKS, AT NO COST TO YOU. PLEASE READ MY DISCLOSURE FOR MORE INFO.