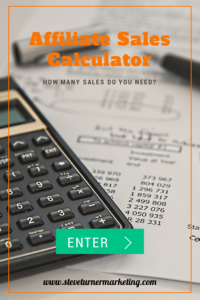 Before diving headlong into the world of affiliate marketing use this free affiliate sales calculator to quantify your expectations. 
The numbers are relentless. This simple calculator will show you how many sales you will need to make every single day, week or month to earn a specific income.
When you have your own traffic data, enter in the calculator to determine your ongoing traffic requirements to produce the results you need!!
If you have no data, I would recommend being cautious and using a figure of 200 – 300 visitors per sale.
Using The Affiliate Sales Calculator
Step 1. Use the slider to set your desired monthly income.
Step 2. Use the slider to set the selling price of the affiliate product or service. (nearest $1)
Step 3. Use the slider to set the commission rate you will be paid.
Step 4. Use the slider to set the average number of visitors it takes to generate a sale.
Step 5. Adjust values to review alternate scenarios
NB: Please note no costs are taken into account in the affiliate sales calculator. – It is generally assumed that costs do not vary greatly from selling lower-priced affiliate products to premium products (over $1,000). 
To make allowances for upsells in sales funnels, use the affiliate sales calculator to make two or more calculations to determine how many products would be required.
For example, if your desired monthly income is $10,000, firstly calculate how many $67 products are required to earn $2,000 per month then recalculate how many $249 products you need to sell for the balance of $8,000.
Many people fail to realise how many lower-priced products they will need to sell every day to meet their expectations. They assume it is easier to sell cheaper products.
The reality is it is even easier if you give away products of value to begin the process.
What if you could make $3,000 to $10,000 per month working part-time from home, with no tech skills or expertise, and without personally selling anything ever!
There are four things anyone needs to succeed online as an affiliate today;
Traffic.
Email list building.
Daily follow up.
A sales system,
Not just any type of sales system such as a product on Clickbank.
You need a complete sales system that allows you to get paid on all sales to your customer including those backend premium high-ticket product sales.
If you would like to learn how you can implement "The Ultimate Funnel" in your business, I would like to offer you a free copy of "The Iceberg Effect".
Find out more and let's see where this journey can take us.
To your success,
Steve T