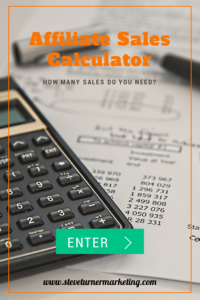 Before diving headlong into the world of affiliate marketing use this free affiliate sales calculator to look at the power of a 2-tier affiliate program with monthly recurring income.
The numbers are amazing. This simple calculator will show you how many accounts and affiliate sales you will need in a year to make a specific monthly income.
When you have your own sales data, enter it in the calculator to determine your ongoing monthly earnings and then determine what you need to reach your desired income level.
If you have no data, I would recommend being cautious and using a figures of 1 – 5 sales a month, and I would only allow for half (50%) of your sales actually becoming affiliates themselves.
Using The Affiliate Sales Calculator
Step 1. Estimate how many Builderall accounts you could sell in 1 year.
Step 2. Estimate how many of your Builderall accounts would become Builderall affiliates.
Step 3. Estimate how many sales your affiliates could make in 1 year with your help.
For example, if you believe you could sell one Builderall Premium or Funnel Club account per month, or 12 sales per year you would be earning $258.84 every month.
If half of these accounts (6) became affiliates and you were able to help them do the same and sell one account a month (12/year) then your monthly recurring income would be $1,811.88.
Note: The values ​​simulated below are based on the second month as recurring income. The initial 100% commission is not part of the calculation.
"As with any business – your results may vary and will be based on your individual capacity, business experience, expertise, and level of desire. There are no guarantees concerning the level of success you may experience. There is no guarantee that you will make any income at all and you accept the risk that the earnings and income statements differ by individual. Each individual's success depends on their background, dedication, desire, and motivation."
How Do I Get Started As A Builderall Affiliate
Purchase the Builderall Premium Plan or the Builderall Funnel Club Plan, and you'll have automatic Affiliate Approval.
Have the best of both worlds, access the most complete digital marketing platform and become an affiliate for one of the best global business opportunities.
Don't waste any more time. Start your digital marketing journey with Builderall now, activate your plan, and become part of the fastest-growing community in the world.
I look forward to you joining our team and growing your business with Builderall.
Regards,
SteveT