DISCLOSURE: THIS POST MAY CONTAIN AFFILIATE LINKS, MEANING I GET A COMMISSION IF YOU DECIDE TO MAKE A PURCHASE THROUGH MY LINKS, AT NO COST TO YOU. PLEASE READ MY DISCLOSURE FOR MORE INFO.
Why Paying For Traffic In 2021 Is A Smart Move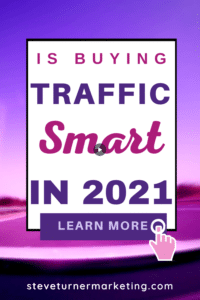 While there are hundred's and maybe thousands of success stories we hear about businesses hitting it big on the internet, unfortunately, these are far outweighed by those that don't.
Hundreds and hundreds of internet businesses are started every day, however very few survive. According to WebFX, "studies have shown that 90% of online businesses fail within the first four months of operation". 
Despite all the hype you see, the fact remains it is not as easy as many would have you believe!
Right Time! Right Place! Right Product! Could this be luck? Possibly but highly unlikely. There are no push-button systems that will make you an internet millionaire overnight. Often called entrepreneurs, it should be understood that they bear most of the risks and enjoy the rewards.
It takes perseverance, commitment and focus and an unshakeable belief that you will succeed. Then you need to learn all the other stuff.
The DNA of An Internet Business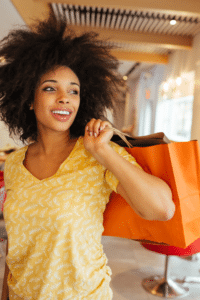 Customers are the lifeblood of any business. Most, though not all internet businesses, don't have a physical presence. Even an online company that sells physical products, via drop shipping, for example, still may not have a shop front for customers.
Our customers need to be driven to our offers, ads, squeeze and landing pages for an internet business. They need to navigate to us, so we need to employ all our skills to "drive" them in the direction we want them to go.
In the online world, "traffic" is not one of the things you need; it is "THE THING" you need. Just as with the real world, no customers, no sales, no profit. The start-up cost for an online business is minimal, which is why many people are attracted to this business model.
What many fail to understand is the principles you need to master are not minimal. It is pretty safe to say that most business practices apply just as much to an online business as one offline.
Just as not every person enters a shop, a shopper buys something and becomes a customer. Not every person who visits your website or offer will take you up and become a customer. We can work out over time that for every 100 people we bring to our website or an online deal, a certain percentage will buy.
In business, there are only two basic ways to make more money:
Firstly get more customers, or
Secondly, sell the customers you do have something of a higher value.
We see that a higher percentage of people will not buy anything on their first visit, or in fact, may never return. Therefore we need a constant supply of new people "traffic" to present our offers to have a percentage convert to a customer.
No traffic or not enough traffic will result in low conversion rates, and you will not make any money. Use lower-priced items first to engage your customers, then up-sell by presenting higher ticket items. 
This method raises the value each customer has to you, returning more on your advertising investment. Effective up-selling reduces the number of customers required to earn the same revenue.
Just as a retailer with a physical store, you now have your website full of products or offers. How are you going to attract enough traffic to make a profit? Well, just like the retailer, we have similar options, both paid and free.
Let's leave our retailer with his marketing budget for radio, TV, newspaper, direct mail and letter drops. We do not forget today, he can also avail himself of the same free options we can use in our online business.
Most of the success stories we see around us from both the offline and online world come from paying for traffic or advertising. Understand that they also make excellent use of all the accessible methods available to you and me.
Don't worry if you have no budget at all for any form of paid advertising, even though some may be quite affordable to start with and scale up if successful. There are several options without paying for traffic that will generate some traction and momentum.
Here is a list of 9 ways that can get you advertising for free:-
Organic search engine results (Google, Bing, Yahoo).

Social Media (Facebook, Twitter, Instagram, Pinterest

YouTube.

Classified websites.

Write a blog.

Article posting.

Forum posting.

Blog Comments.

Guest Blogging
These may not generate the same high volume in the short term as those paying for traffic. Longer-term, I believe you will have a better, more sustainable business if you have fully developed a couple of these methods.
The secret here is perseverance; pick a method you think will suit your needs and work every day without fail. Do not try for 3 or 4 days a week, then give up and try something else. Master the one method you choose.
Search Engine Traffic
One of the absolute best tools you need to master if you are running an online business is Google. Everything you need to know is on Google somewhere. Of course, the trick is having the time and skills to drill down to what you need to know and discard the junk.
Since they are free for people to use, millions of searches are conducted daily on search engines. Ranking on the first page for your particular search term is a highly sought after position and can be extremely difficult to achieve.
Do not forget that Google is also a multi-billion dollar business. Some companies pay to have their results in front of you, even though their page may not rank that well if the playing fields were level.
Optimizing your sites for search engines is a reasonably low-cost exercise. However, most people would not have the technical knowledge or ability to compete with some major players. 
Using some advertising can go a long way to improving your results.
Depending entirely on search engine results can also prove dangerous. We have seen various updates to search engine algorithms that could penalize you or potentially wipe out your traffic, as has happened in the past.
When you are buying advertisements, it is paying for traffic. Done correctly, not only should you be driving traffic, it should be "targeted traffic" to your website, sales page or opt-in form.
Your conversions will tell the story. When you pay for your traffic, it guarantees consistent targeted traffic flow to your site, sales page or offer. Monitoring your conversion results will allow you to optimize the ads and landing pages.
Scale-up those campaigns with the best conversion rates and scale back those not performing until they can either be optimized or dropped.
It is vital to have your page optimized for SEO. Rewards from search engines results can take a lot of time and effort.
Paid Traffic
Paid advertisements include Google, Yahoo, Facebook, Instagram, Pinterest and Twitter, and traditional Solo Ads. Some people also refer to Solo Ads as "email buys."
The most common method of advertising is called pay per click (PPC). You pay for the number of hits to a link from your ad. Other forms of charging, cost per impression, are determined by the number of times views your ad receives.
Using the correct power words in your ads when paying for traffic helps sell the sizzle, not the steak, as they say. I would advise that you spend more time on the copy and detail of landing and squeeze pages for paid campaigns, not just keywords.
Solo Ads (email buys) are usually charged per click; however, we use a provider who has a mailing list here. They send our offer or ad to the list via email, where the copy is more important than keywords.
 A search of Google will reveal a plethora of fantastic tools you can use for keyword research, but here are three of my favourites to get you going.
Google Keyword Planner – Hey, its from Google so it's the place to start.
Keywords Everywhere – I like this because it's a free easy to use extension for either Chrome or Firefox.
Answer The Public – Ok, this site has one of the quirkiest home pages you have ever seen, and using the site does take a little practice.
Nowadays, there is intense competition for the most searched or common keywords. It has driven costs higher and higher for the average internet marketer. It is crucial to research and narrow down the niche you are targeting and look at "long-tail-keywords ".
These are longer phrases that people may use to give more specific information or detail about their search. It is highly advisable to have researched all possible long-tail keywords before committing to an advertising campaign. 
Learning how to build custom and "look-a-like: audiences via Facebook targetting and re-targeting can result in highly effective, cost-efficient advertising if done correctly. Include Facebook advertising in your research.
Be advised that Facebook has strict terms and policies or guidelines to apply when it suits them. Be extremely cautious when using Facebook advertising as your sole means of traffic generation. 
I would always recommend having a minimum of two ongoing traffic sources.
Like all businesses, when paying for traffic, you must look at your "Return on Investment" (ROI). The cost per conversion or lead, or other action you are expecting due to your advertising. 
Done correctly, you will see a massive boost in your sales or conversion figures and also be able to see what each cost you.
Benefits of Paying For Traffic
Know and control costs.

It can be set up quickly

What demographics to target. 

Which ads work better than others.

Where the traffic came from.

Choice of multiple platforms.

Results are almost instantaneous.
These are some of the other benefits you will gain from paying for traffic.
Paying for targeted traffic doesn't have to be a mystery anymore. I have found that buying small parcels of Solo Ads is beneficial. This enables me to test the effectiveness of my squeeze pages and then optimize them and retest them.
The other significant benefit of running paid campaigns is that you are guaranteed the clicks you have paid. Being cold traffic that doesn't know like or trust you yet, will lower conversions. Paid traffic may not be for everyone, but I would certainly recommend considering the option.
There are numerous solo ads providers, and you need to do your due diligence before handing over the money. As there are Facebook groups dedicated to Solo Ads, I suggest starting and listening to the feedback on the various providers.
When paying for traffic, my preferred suppliers of solo ads are either James Neville-Taylor or Wayne Crowe. Both suppliers are easy to use and provide quality traffic. 
Other traffic sources I have used can be found on my Recommended Resources Page.
My new Traffic Mastery Course teaches you advanced traffic strategies that hardly anyone else is talking about. For full details, CLICK HERE.
Please let me know of your experiences paying for traffic or organic traffic generation methods.
If you have other sources of traffic generation, please share them with us here.
Please comment, like and share my post.
Regards,
Steve Turner
P.S. For a short time, you get access to the the entire Traffic Mastery Course, 10 advanced video course and the 10 part beginner course. Click Here For Info