How To Started With CPA Marketing
CPA marketing can be extremely attractive due to the fact that you can get paid without even having to make a single sale. This means it is a littler harder to get accepted into the CPA networks.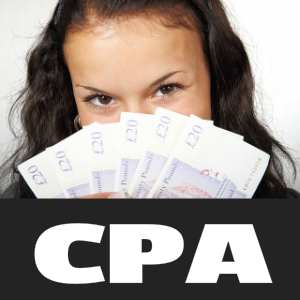 Cost per acquisition (CPA), also known as "Cost per action" or pay per acquisition (PPA) and cost per conversion, is an online advertising pricing model where the advertiser pays for a specified acquisition – for example a sale, click, or form submit (e.g., contact request, newsletter sign up, registration etc.)
This differs from typical affiliate marketing in that you may not necessarily need to make a sale to get paid within a CPA network.
When you join a CPA network, you will get the chance to put these CPA offers on your site and make money for every single time somebody completes the offer.
Pay per click (PPC) and cost per click (CPC) are both forms of CPA (cost per action) with the action being a click. PPC is generally used to refer to paid search marketing such as Google's AdSense or Ad Words. The advertiser pays each time someone clicks on their text or display ad.
On average, these offers will ask your visitors to sign up for their newsletter, finish a survey, leave a comment, leave their phone number or email address to get some free product or information.
Of course, there are several ways to begin in this business, and it would be worth your while to follow these tips when getting started.
When you first begin, try finding a CPA network that other people have recommended.
Finding one isn't that hard, as there are so many that other marketers have left reviews on.
Once you find the perfect one, make sure that you already have a fully built site, as CPA networks never accept new partners who don't have a fully functioning relevant website.
Popular CPA  Marketing Promotional Methods.
Sales/Landing Page
Splash Page
Review Website
Quiz / Survey or Poll Page
Of course, there are many other methods of promoting your CPA offers, such as through your email list, forums, message board posting, videos on YouTube and even traditional offline methods.
Make sure you are prepared before you apply to any CPA Networks. If you are unsure, Click Here for a free comprehensive CPA marketing course.
In order to gain success with CPA marketing, all you need to do is get traffic and to take your time when finding the perfect offer, as there are some which won't work well with your visitors.
By choosing the perfect set of offers that will be appealing to the majority of your visitors, you can expect to achieve success with CPA marketing.
CPA marketing has always been popular among the biggest marketers out there. What you need to know is that done properly, this business is one of the easiest ways to make money on the web.
To get started online making money through CPA offers get instant access to 16 step by step videos to show you how.
For Access to the Free CPA Machine Course >> CLICK HERE
To your success,
SteveT