DISCLOSURE: THIS POST MAY CONTAIN AFFILIATE LINKS, MEANING I GET A COMMISSION IF YOU DECIDE TO MAKE A PURCHASE THROUGH MY LINKS, AT NO COST TO YOU. PLEASE READ MY DISCLOSURE FOR MORE INFO.
Website Traffic
A constant stream of unique targeted website traffic is required to monetise your website or blog.
Without visitors to your website or blog, the probability of producing revenue from your site is fairly remote. It would be fairly safe to say more sites have failed from a lack of traffic than any other reason.
Even a badly designed site, so long as it has enough traffic, will make some money, compared to a brilliant site or product, with no traffic.
Even though searching the internet will reveal thousands of articles, software products, courses and a plethora of experts and gurus on traffic generation, there are only two basic types of traffic, free and paid.
You can be fairly certain a great number of the top sites owned by multi-national companies you see on the internet have substantial budgets to attract visitors, using a variety of advertising tactics both online and offline.
Whilst you and I may not have access to such funding, there is a case to be put for paying for traffic; after all, it does take money to make money, and it doesn't necessarily take a lot of cash to generate website traffic for your site.
While keeping expenditure to a minimum, numerous methods exist to create quality website traffic.
I would go so far as to say if you are new to internet marketing or a new business venture, it would be far more prudent to test the waters with low-cost or free traffic generation methods first and use this knowledge to help build your campaigns before moving on to committing financial resources.
Paying for traffic can become extremely expensive and still not result in enough conversions to justify the cost per click if not done correctly.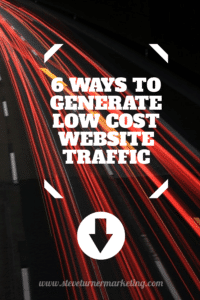 Here are six cost-effective methods to create website traffic that will prove beneficial to your site when implemented correctly and persevered.
These methods will not drive huge amounts of traffic to your site overnight and make take some weeks to see measurable results; however, if you persist, the results we come.
The best overall results will not come from just one or another of these methods but from a combination. Start with whichever method you like, though I suggest writing and submitting articles.
When you have a method mastered, move on to another and then each week, budget time to spend on each of the methodologies for the best results.
1# Write and Submit Articles
Writing articles is one of the basic skills of internet marketing I would devote some time to perfecting.
Firstly for your website, blog even to produce your product reviews.
Once you have written a number of quality articles, search the Internet, and there are a number of sites that will accept your submissions. Once you have mastered this, you may want to look at guest blogging.
Build authority by writing on subjects on which you have some expertise. When they read your article, they can sense your knowledge about the subject and will be keen to visit your site.
Published editorials supporting your niche and the theme of the site will also build credibility. How-to articles, tips, and guidelines on the subject matter or niche your site belongs to always do well.
Adding a resource box to your completed article linking to your site is an accepted practice. Include a bio about yourself and what benefits your website offers. A well-written article that has engaged your readers and provided information and value is bound to draw them to your site.
2# Create a Newsletter.
Starting and producing a newsletter is not as hard as it may sound. If you have a website or blog, at minimum, you would be writing one article a week, so the idea would be to produce a monthly Ezine, and four articles could be merely re-purposed into content for your newsletter or Ezine.
Once you have started, many authors and websites are prepared to furnish complimentary articles since they are able to promote their names in your newsletter.
This provides no-cost promotion for them while helping you provide content as well as establishing authority.
There is no doubt building a list will prove to be one of your most valuable assets, and your subscriber base gets expands; you will always have the ability to direct targeted traffic to your site or landing pages.
3#Social Media
With time being the only cost of building a solid social media presence, you need to dedicate some time to researching and developing these valuable sources of website traffic.
To start, I would suggest concentrating on two, Facebook and Twitter. Others may suit your business better, such as Pinterest and Instagram, which are beginning to gain huge followings.
There are thousands of helpful articles all over the internet on how to utilise these media networks and numerous tools, both paid and free to assist you in managing your accounts.
Don't rush in blindly. Form a strategy for your goals, sales, generating traffic, and adding subscribers to a list. Whatever these goals, ensure your campaign is designed to deliver them.
Again my favourite principle uses the 80/20 rule. Eighty per cent value and/or content mixed with twenty per cent sales and promotion.
4# Exchange Links
Link exchange has been practised on the internet for as long as I can remember, and it was often touted as the best way to get high search engine ratings.
Many sites dedicated pages to link exchanges and no doubt spent a lot of time and effort building these link farms, and there were even numerous software packages that could automate the process.
A search on Google for "link directories" gave 57,300,000 results. However, I would not recommend using them these days.
Other than dedicated sales pages, it would be extremely rare to see a website with no links to another site.
Some site owners are amenable to exchanging links with one another to try and increase website traffic and the authority of their site. For this to work, there needs to be some mutual benefit.
Sharing a common niche or theme or offering a complimentary product or service would be advantageous, not in direct competition.
Make sure you research their site and link first and then prepare a request identifying your link and context and ask for one in exchange for offering a mutual benefit.
Exchanging links may assist your chances of ranking higher in search engine results; however, they would not be very high in the algorithm compared to unique and engaging content, so use it wisely.
5# Traffic Exchange
A traffic exchange works by submitting your website to the network. To earn credits, you must browse the other member's sites on the network.
These credits will enable your site to earn credits for your site to be viewed by other members of the network.
Most traffic exchange programs are free, though paid upgrades are usually on offer. Building your referral network will also boost your website traffic through the exchange.
Many exchange programs have an auto surf mode, which can increase your hits (traffic) but increase your bounce rate. Effective use of a traffic exchange would be to only direct website traffic to either a squeeze page or an opt-in page.
If you are using AdSense, take note Google does not allow AdSense on Traffic Exchanges, so you need to create specific pages without AdSense.
6# Participate in Online Communities and Forums
The key here is "participate" Only your time and knowledge are required.
Share your mastery and command of your subject or niche with many online communities. Starting an online forum on your site can establish your authority and help bring traffic.
Choose the forums you participate in wisely to gain maximum exposure for your website.
Answer questions to demonstrate your comprehension of the topics being discussed or offer alternate solutions. Be courteous and respect the opinions of others, and as others recognise your expertise, your reputation and trust will build along with your website traffic.
Which Strategy Is Right For You?
One method alone will not provide the best results. All six of these tactics are established, reliable marketing methods and shouldn't be applied separately but rather as part of your all-inclusive marketing tactics.
While useful, these six advertising methods are just the tip of the marketing iceberg. When you use these six alongside other powerful marketing techniques, you'll unleash a nearly unstoppable stream of well-qualified leads. 
Whilst you may have heard free traffic is a myth, I would love to show you:-
How easy it is to get.
You can get plenty in a few short weeks.
And it takes less than an hour per day.
Claim your FREE 24 Hour Pass to this Traffic Generation System Here.
To your success,
Steve Turner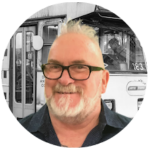 Hi, my name is Steve and I would love to help you with affiliate marketing.  If you are interested in making money online and living the lifestyle you would like, please check out my other posts.
DISCLOSURE: THIS POST MAY CONTAIN AFFILIATE LINKS, MEANING I GET A COMMISSION IF YOU DECIDE TO MAKE A PURCHASE THROUGH MY LINKS, AT NO COST TO YOU. PLEASE READ MY DISCLOSURE FOR MORE INFO.