DISCLOSURE: THIS POST MAY CONTAIN AFFILIATE LINKS, MEANING I GET A COMMISSION IF YOU DECIDE TO MAKE A PURCHASE THROUGH MY LINKS, AT NO COST TO YOU. PLEASE READ MY DISCLOSURE FOR MORE INFO.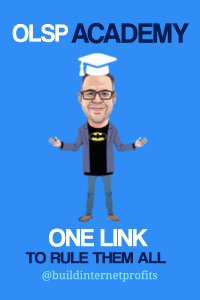 OLSP Academy is the new face of the updated OLSP System and Mega Funnel.
The driver of the OLSP System and Mega Funnel is still the Mega Link, and much of the system has been simplified and the training updated.
These changes have been designed to make it easier for someone to start making commissions.
The member's area has undergone some significant updates.
We will have another look at the entire system and the changes that have been implemented.
Who Is The OLSP Academy For?

Affiliate marketers of any level can join and use the OLSP Academy to benefit from the training and earn commissions.
The system has been specifically designed so a complete beginner can start and build an online business with a Facebook profile and the OLSP System as a minimum.
Without a website or their own products, for a very low cost, they can start earning commissions.
Throughout the OLSP Academy, your Mega Link is the one link that rules them all.
This is your unique affiliate link that tracks all your team members through the system for life, so you will earn commissions on any purchases or upgrades a team member makes.
All you need to do to get your Mega Link is sign up for the OLSP System and invite people to join the OLSP Academy via your link.
In all the new training, it is strongly recommended that rather than just using the Mega Link, you should start building your list by using the Mega Funnel.
Using specially designed Mega Funnel optin pages, you can capture your invitee's email address before sending them through the funnel, which will set them up with the OLSP system and their Mega Funnel.
Using this method has two very powerful benefits.
You are building your list and can follow up.
You can earn commissions for any optional offers they may choose while going through the funnel.
There are four steps to complete going through the funnel.
Step 1 – Sign up for the OLSP System.
Step 2 – Set up the Mega Funnel.
Step 3 – Buying traffic for the Mega Funnel (optional).
Step 4 – Start the training.
The new training has been simplified, and there are now five easy-to-complete units.
OLSP Academy Training Units

Training  Unit 1 
Three short videos and two PDF worksheets introduce you to the OLSP Academy, your OLSP guide and the weekly training.
Training Unit 2
The largest of the units includes nine videos and two PDF worksheets.
Commissions, The Mega Link, Mega Points, the Dashboard, settings, and other tools are all covered in this unit.
Training Unit 3 
Five video lessons showing how to drive traffic using an organic Facebook strategy to share your Megalink to start generating commissions.
Training Unit 4
The seven video lessons in this unit will teach you how to start building your list using the Mega Funnel.
Set up your first squeeze page, add an autoresponder and follow up.
Training Unit 5
Two short videos introducing automation software and how the top OLSP Neil Moran runs his business.
After completing your OLSP Academy training, download your certificate and post it proudly in the Facebook group to show your achievement.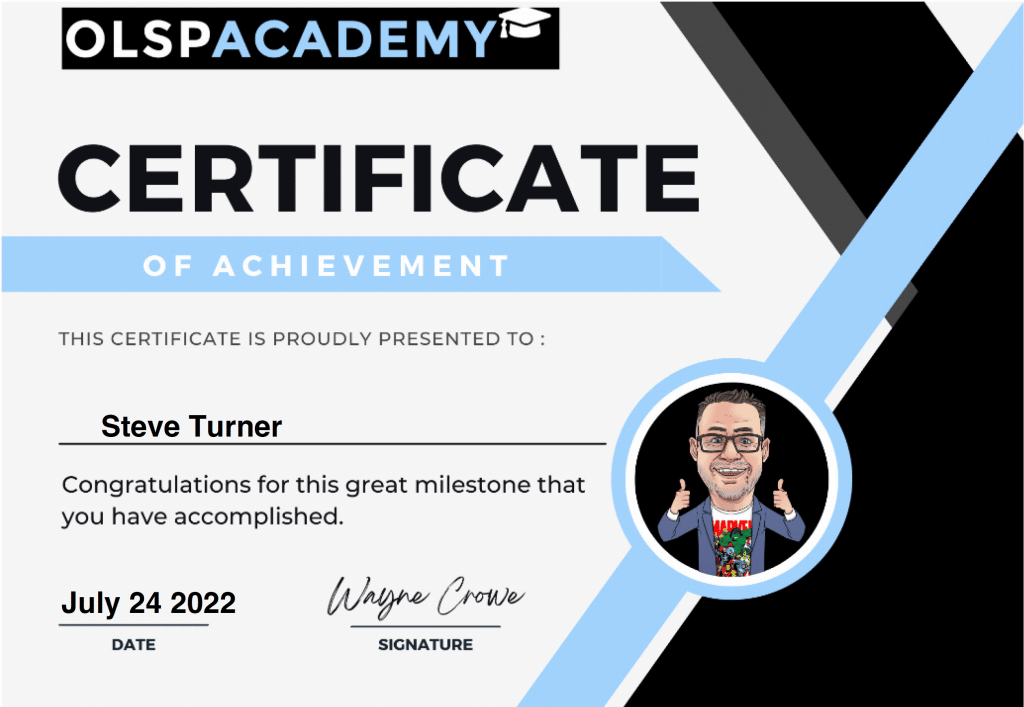 The OLSP Academy Facebook Group
An integral part of the OLSP system is the Facebook group previously known as The Traffic Dominators Facebook Group, which has been renamed OLSP Academy.
This private group currently has 132+K members that discuss internet marketing, online sales, email list building and traffic generation.
This group is active, with members helping and encouraging others, answering questions and highlighting their achievements.
A vital feature of the group is the weekly Question and Answer (Q & A) held by Wayne Crowe every Friday at 2 pm UTC (9 am EST), where members are encouraged to ask all their questions.
Notifications of upcoming live broadcasts and events are all posted within the group to keep you informed.
The updated member's area allows you to access the training units and your purchased products, manage your team and view your commission statements.
With the new welcome interface, it is easy to see your overall statistics, current earnings and level in the OLSP System.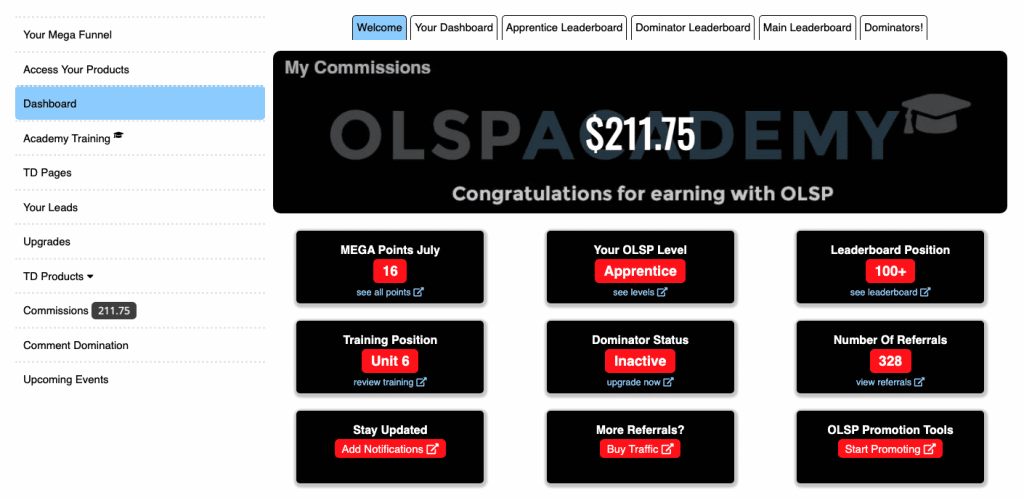 Your 30-day commission snapshot is viewed under the welcome screen dashboard.
Drilling down onto "Your Dashboard", all your points for the various areas are displayed. 
Of course, this is where your Mega link is displayed along with the number of unique clicks you have received along with All Time Points, Points for the current month, Comment Domination Points, Training Unit Completion Points, Signup Points, Second Level Points, Commission Points, Traffic Points, Login Points, Bonus Points Coach Call Points and Email Points.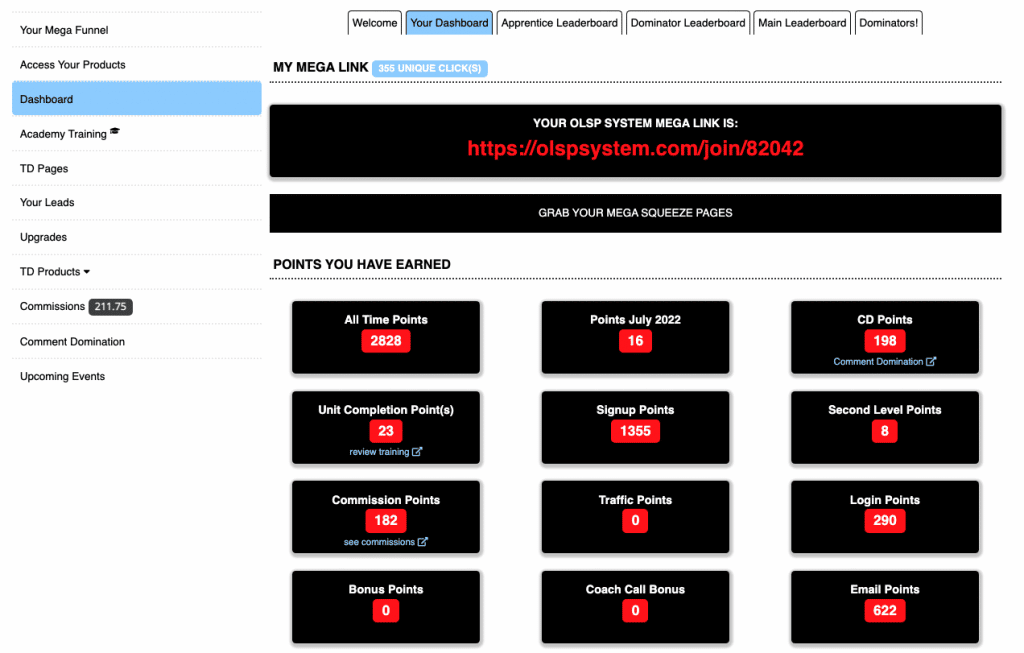 The various leaderboards can be accessed from this horizontal menu on the welcome screen, with the other significant areas accessed from the main menu on the left-hand side of the screen.
Notably, due to the significance of focusing on building your list and the success of the Mega Funnels, you can now access TD Pages training directly from the member's area.
Your TD Pages account can be accessed directly from the top menu bar.

TD pages allow you to automatically ensure your Mega Link and your Mega Funnel Optin Pages are all linked to your OLSP account, and you can view the analytics in the TD Pages dashboard.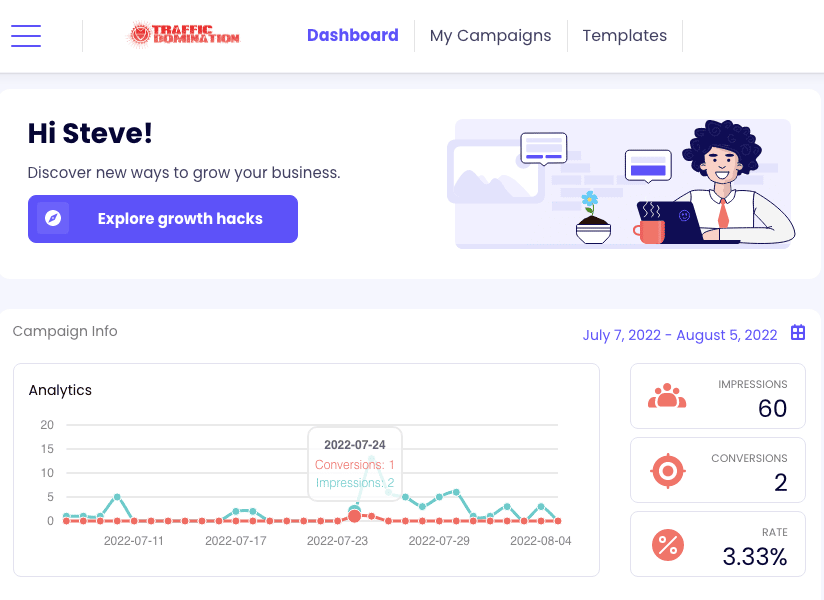 It is vital to your success that you assist and encourage all your team members.
Within the "Your leads" menu, you can follow the progress of all your team members, message them directly from within the dashboard, and email them.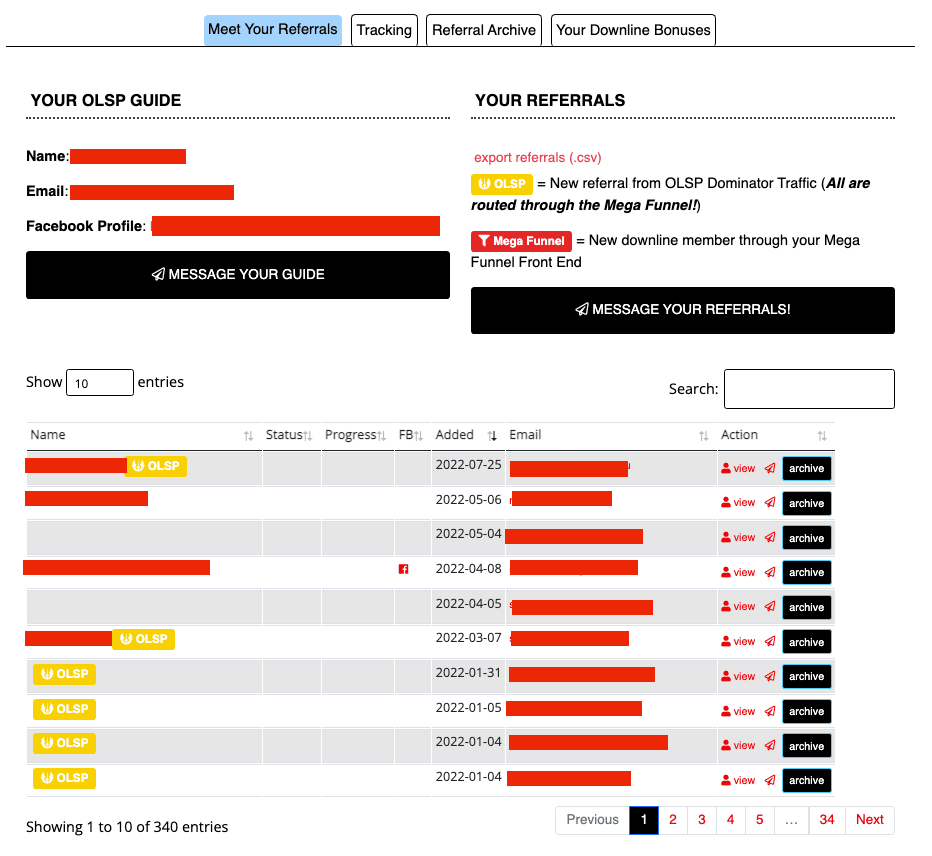 This is where your team members can access your contact details as you are their OLSP guide, so keep them updated.
Here you can find many optional tools and programs that can assist you in making more commissions consistently.
These are all optional but highly recommended for action takers.
Members who upgrade to Dominator or VIP will earn higher commissions than Foundation Members and accelerate growth.
OLSP has proven products that cover all areas you need to promote successfully online, build your list and grow your income.
All the products are available not just for you to purchase, but as an OLSP member, you can promote all of the products using your unique link to earn commissions.
Within the products area, you can also find the links to previous live training sessions for you to promote.  
The OLSP Academy is an ideal starting program for people new to online affiliate marketing.
More experienced marketers will fully appreciate all the benefits the system offers immediately.
The OLSP Academy is free to start, and the training is well organised and easy to complete. 
Much of the hard work of testing traffic sources, squeeze pages, emails and affiliate products has been done for you.
Following the training and the system will generate leads and commissions much faster than trying on your own.
DISCLOSURE: THIS POST MAY CONTAIN AFFILIATE LINKS, MEANING I GET A COMMISSION IF YOU DECIDE TO MAKE A PURCHASE THROUGH MY LINKS, AT NO COST TO YOU. PLEASE READ MY DISCLOSURE FOR MORE INFO.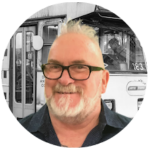 Hi, my name is Steve and I would love to help you with affiliate marketing.  If you are interested in making money online and living the lifestyle you would like, please check out my other posts.
Please leave your comments below.