DISCLOSURE: THIS POST MAY CONTAIN AFFILIATE LINKS, MEANING I GET A COMMISSION IF YOU DECIDE TO MAKE A PURCHASE THROUGH MY LINKS, AT NO COST TO YOU. PLEASE READ MY DISCLOSURE FOR MORE INFO.
Affiliate Marketing Ideas to Boost Results
Many people sign up for online affiliate programs in the belief it is the "yellow brick road" too easy money They mistakenly think that all it takes to start generating heaps of cash is to join an affiliate program.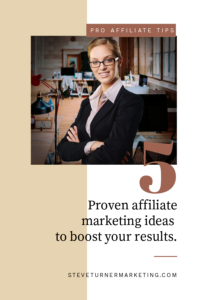 Be wary of outlandish claims. Sometimes it is hard to cut through all the hype. If it sounds too good to be true it probably is!! No matter what anyone says, affiliate marketing will require some time and effort.
Using affiliates, vendors compensate the individual marketers for each recommendation that results in a sale. Most affiliate marketers generally use a variety of different strategies, based on their own knowledge, target markets and products or services being promoted.
Commonly used promotion channels today are, blogs, email marketing, social media, paid advertising online and online forums.
The vendor provides affiliate marketers with special links or codes to use which enables the tracking of sales and referrals. Most reputable affiliate marketing programs have sophisticated software tracking for affiliates to ensure you get fairly credited for commissions due.
Choose Affiliate Marketing Partners Carefully
There are hundreds if not thousands of affiliate marketing programs from which to use. Do your due diligence before signing with anyone. Are they well established?
Check the commission payouts and note whether products are part of a sales funnel. You may get a much higher commission on the front end products which normally reduces on the higher ticket items.
Well constructed sales funnels can convert very well. Many vendors will pay you, the affiliate anywhere from 50% to 100% of the front end product which leads to a sales funnel that may have up to eight or nine products.
This is often called a tripwire and is a very effective method of generating higher paying conversions.
Not only is it overwhelmingly easier to talk or write about something you actually use and like, but your recommendations are also genuine. You will have no trouble at all in finding great products that you would gladly recommend to your friends and family.
If the products or services pass this test it will be a piece of cake to recommend to a prospective customer. Simply put, if you wouldn't buy or use it yourself, don't try and recommend or sell it.
Try Not To Step Out of Your Niche
Read enough articles on affiliate marketing and niche will become imprinted on your brain. There are all sorts of articles on what niche to choose and how to choose a niche or in some cases which niche not choose.
Deciding on a niche is a subject all of its own so I'm not going to go into any depth here. Suffice to say not only should it be something you are knowledgeable/passionate about. It needs to have a focus and subject that will also attract, intrigue, inspire and motivate others!
However, you choose your niche, make sure there is opportunity within in it for you to be profitable, and keep all your services and products aligned to this theme.
Stay Focused On the Affiliate Marketing Niche
You guessed! The affiliate marketing services or products ought to be highly relevant to the niche or theme of your blog or website.
For example, you may have a blog on Australian Cattle dogs. Here are a few of the obvious physical products you could promote maybe through Amazon, such as bowls coats, leads and toys etc. What other services could you promote aligned with your niche?
Write how-to posts or Lead Magnets regarding coat care, training for puppies, training level 1 etc etc. These can either be used to gain more followers to your blog or maybe compile them into an eBook for sale or as another lead magnet.
Health products for dogs, vitamins minerals etc. Pet insurance, pet travel insurance, veterinary and medical insurance for pets. Not directly the niche "Australian Cattle Dogs", but most definitely aligned and likely to provide opportunities for affiliate marketing revenue.
The key here is to think outside the box. Do some lateral thinking and see what you can come up with that others aren't doing.
What Is Your USP (Unique Selling Proposition)
What is it, The USP that makes you stand out from everyone else promoting the same or similar products. Your biggest competitor may be another affiliate marketing guru! Let's face it, if you just post another cookie-cutter website full of ads and banners, trust me you won't be making the millionaires "Hall of Fame" any time soon.
Remember "Content is King". Know your niche, find your voice and find try and find a different or unique way of presenting your content. This affiliate marketing content should always be designed, written and presented in such a way as to funnel your readers or subscribers to take an action.
The face of online, internet or affiliate marketing, whichever you prefer is ever changing. In fact a favourite saying of mine is "There is nothing so constant as change".
My biggest tip and most valuable I have saved for last! Remember the basics. The psychology of buying and selling doesn't change.
DO NOT REINVENT THE WHEEL
I struggled for years on my own. I thought I could figure it out without any help. The lessons I learnt the hard way could have been given to me…
Invest in coaching and a mentor. This has turned my business around and it can do the same for you.
Click on the link below to gain access to a free video which will show you "The New Way To Build A Profitable Business Online Even If You Have No Products, No Technical Experience, And Hate Selling".
Click <HERE> to access the free video.
To your success.
Regards,
SeveT
DISCLOSURE: THIS POST MAY CONTAIN AFFILIATE LINKS, MEANING I GET A COMMISSION IF YOU DECIDE TO MAKE A PURCHASE THROUGH MY LINKS, AT NO COST TO YOU. PLEASE READ MY DISCLOSURE FOR MORE INFO.
P.S. If you have any comments please add them below. Like and Share this post with anyone you think it could help.