DISCLOSURE: THIS POST MAY CONTAIN AFFILIATE LINKS, MEANING I GET A COMMISSION IF YOU DECIDE TO MAKE A PURCHASE THROUGH MY LINKS, AT NO COST TO YOU. PLEASE READ MY DISCLOSURE FOR MORE INFO.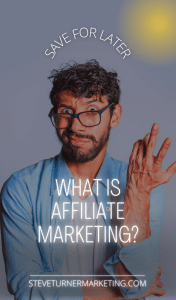 What is affiliate marketing worth to you?
Affiliate marketing is a popular online business model that allows individuals and companies to earn commissions by promoting the products and services of other businesses. 
In recent years, this type of marketing has become increasingly popular, and it's not difficult to see why. It is a win-win situation for affiliate marketers and businesses using affiliate marketing.
"The Affiliate Marketing Industry is set to grow to approximately $14.3 Billion in 2023 globally and $15.7 Billion by 2024" – The State of Affiliate Marketing: Benchmark Report (2023)
Let's look closely at affiliate marketing, how it works, and some advantages and challenges this online business model offers.
What is Affiliate Marketing?
Affiliate marketing aims to promote a product or service on behalf of another company or business in return for a commission. Affiliates earn commissions when someone clicks on their affiliate link and makes a purchase.
Depending on the company and product, commission rates vary. Some companies offer a flat rate commission, while others provide a percentage of the sale.
How Does Affiliate Marketing Work?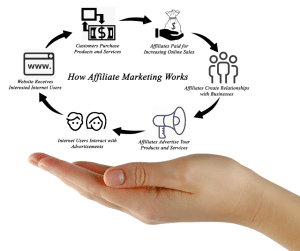 The affiliate marketing process typically involves the following steps:
The affiliate joins an affiliate program offered by a business or company that sells products or services in its niche.


The affiliate receives a unique affiliate link that they can use to promote the product or service.


The affiliate promotes the product or service using its affiliate link on its website, social media, or other marketing channels.


Affiliates earn a commission when customers click on affiliate links and make purchases.


The business or company handles order fulfilment, shipping, and customer service.



The affiliate receives payment for their commission based on the agreed-upon commission rate.
Benefits of Affiliate Marketing
There are several benefits of affiliate marketing, including:
Passive income:

 Once an affiliate has created content promoting a product or service, they can continue to earn commissions on sales made through their affiliate link, even if they aren't actively promoting the product.



Low start-up costs:

 Affiliate marketing is a low-cost way to start an online business. Affiliates don't need to create or develop their products, so there are no costs associated with product development or inventory.



No customer service:

 Affiliates do not have to deal with customer complaints or inquiries because the promoted business or company handles all aspects.
Challenges of Affiliate Marketing
While there are many benefits to affiliate marketing, there are also some challenges to consider, including:
Competition:

 Affiliate marketing is a popular online business model, so there is a lot of competition in most niches.



Income variability:

 Affiliate income can be unpredictable and may fluctuate monthly, depending on the number of sales made through the affiliate link.



Trust and credibility:

 In affiliate marketing, affiliates must establish trust and credibility with their audience. The process can be lengthy and challenging, especially in a niche with much competition.
Benefits of a DFY Affiliate Marketing System
Time-saving:

 One of the main benefits of a done-for-you system is that it can save time and effort. Instead of starting from scratch and creating your marketing materials, you can leverage pre-made resources provided by the system. 



Convenience:

 With a done-for-you system, you don't need advanced technical skills or expertise in marketing. The system typically provides easy-to-use templates, landing pages, email sequences, and other resources ready to be implemented. This convenience makes it more accessible for individuals new to affiliate marketing or with limited technical knowledge.



Tested and optimized materials:

 A reputable, done-for-you system often provides materials that have been tested and optimized for conversions. By using these materials, you can benefit from the experience and knowledge of the system creator.



Support and guidance:

 Some done-for-you systems come with support and guidance from the system creators or a community of affiliates. Support can be valuable, especially for beginners with questions or need assistance.
Conclusion
Affiliate marketing is a popular online business model that offers many benefits, including passive income and low start-up costs. Nevertheless, it is crucial to establish trust and credibility with your audience by understanding the challenges.
However, it's essential to exercise caution when considering a done-for-you system. Not all systems are created equal, and the market has scams and low-quality programs. Thoroughly research the system, its creator, and reviews or testimonials before investing.
The Rapid Profit Machine was created by top 1% affiliate marketer James Neville-Taylor so affiliates can access a hassle-free, 100% done-for-you solution.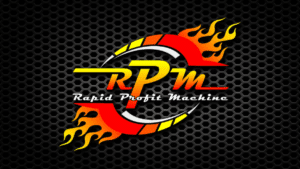 I highly recommend this platform which has many unique features unavailable on other platforms, including built-in email capture landing pages, DFY emails, and weekly live support sessions.
The Rapid Profit Machine eliminates all your difficulties with other affiliate programs. You can focus on sending traffic and let the system handle all the rest.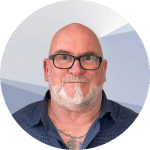 Hi, my name is Steve, and I would love to help you with affiliate marketing.  If you want to make money online and live the lifestyle you would like, please check out my other posts.
PLease leave your comments below.
DISCLOSURE: THIS POST MAY CONTAIN AFFILIATE LINKS, MEANING I GET A COMMISSION IF YOU DECIDE TO MAKE A PURCHASE THROUGH MY LINKS, AT NO COST TO YOU. PLEASE READ MY DISCLOSURE FOR MORE INFO.