DISCLOSURE: THIS POST MAY CONTAIN AFFILIATE LINKS, MEANING I GET A COMMISSION IF YOU DECIDE TO MAKE A PURCHASE THROUGH MY LINKS, AT NO COST TO YOU. PLEASE READ MY DISCLOSURE FOR MORE INFO.
Builderall Script Generator Review
Video Review of the Builderall Script Generator
Please enjoy my video walkthrough of the Builderall Script Generator Tool included with the Builderall Premium Account. If you prefer a written account, it is below the video.
Introduction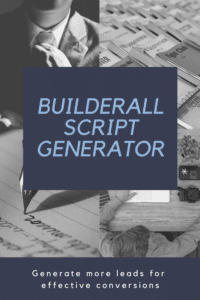 Copywriting is one of the hardest skills to master in your online business and is particularly crucial for your sales pages and conversion rates.
Paying to have your copy written by a copywriter is probably beyond the means of most affiliate marketers, particularly those starting.
Luckily for us most successful copy follows a known formula that can be automated by software to provide the basis for your text.
NB A Word Of Warning: Software can only do so much with the information you provide. It is not a copy and paste solution.
Take the time to understand some basic copywriting principles. Find the correct information to input into the software. Read the output carefully to ensure it makes sense and is grammatically correct.
My Mistake
The most critical phase is developing your first customer avatar. I made the mistake of rushing through this and trying to get it done in 10 minutes.
In my haste, I had not thought through my answers and quickly entered them into the software. In return, the output from the generator was inferior.
After reading the trilogy of books by Russell Brunson, Dotcom Secrets, Expert Secrets and Traffic Secrets (highly recommended reading), I realised my mistake.
The quality of your scripts is dependant on the answers you provide the software, so really take your time answering the questions. 
The Builderall Script Generator
On entering The Builderall Script Generator Dashboard from your back office, you will see the three introductory training videos, which I have added below for your information.
Avatars
Building a customer avatar requires six steps to be completed.
Step 1. Ideal Avatar Profile
Step 2. USP Framework
Step 3. Pain Point & Focus
Step 4. Your offer
Step 5. CallTo Action
Step 6. Wrap Up
Applying some of the principles had learnt, I made notes about my avatar first. What the goals were, what the pain points and roadblocks were. In short, identify the pain the avatar was trying to avoid and the pleasure he was trying to move too with the product or service I was going to offer.
While doing this exercise, I realised that one avatar would be too general. I would need several to fine-tune different types of people I would like to target. For different products, I would also need different avatars.
The most time-consuming exercise is building the first avatar. Once you create the first avatar, make a copy of this avatar and fine-tune for different pain, benefits or products, which can be done relatively quickly on the base avatar.
Generate Scripts
To generate a script, pick your niche, the avatar you wish to use and then the type of scenario you would like to create. Pick the appropriate model you would want. The software will generate a script and present it in a WYSIWYG editor.
From this point, you can edit the script, add different sections and then name the text and save it. You will also have the option to download the writing in either a PDF, Powerpoint or Word Document to your computer. At the very least you will have the basis for the copy you need.
Once you have generated a few different scripts, you will gain some insight into how the software uses your input. You can modify the information in your avatar to alter the text it generates.
I would suggest going through all the different scripts and options in the beginning to get a better understanding of how it works and what will be the best scripts to use. For example, I have found that the generated headlines can be useful as tweets.
With a range of different avatars, you can quickly generate hundreds of different scripts for a variety of different uses, and save them for modification and later reuse. 
Webinars and Video Sales Letters
Producing the copy or scripts for your webinars or video sales letter follows a similar process to developing the customer avatar. You need to go through each section and enter the best possible answers to produce the best results.
Input the webinar information in the following three steps.
Step 1. Hook/Title Slide
Step 2. Core Content
Step 3. Price & Bonuses
Input the video sales letter information in the following four steps.
Step 1. Benefit Statement
Step 2. The Use of Stats
Step 3. Product Reveal
Step 4. Call To Action
More information is required to produce the webinar/VSL script, so it takes longer to complete. I would try and have as much information as possible to hand before starting.
Completing each section will ensure your presentation is complete. Polish up the downloaded PowerPoint presentation for use.
Conclusion
The software can not replace a copywriter. Writing copy is not my strong point, nor can I afford a copywriter. This software included in my Builderall account is a lifesaver.
Understand the input required and take the time to research and enter the correct information. The reward is a supply of various copy and sales copy for all my marketing requirements. This feature alone is worth the cost of my premium account.
If you would like to see what the Builderall Script Generator can do, test-drive all the tools for 14 days for free HERE.
Please like and share with anyone you think needs help writing copy.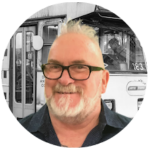 Hi, my name is Steve and I would love to help you with affiliate marketing.  If you are interested in making money online and living the lifestyle you would like, please check out my other posts.
Please leave your comments below.