Why 2-Tier Affiliate Programs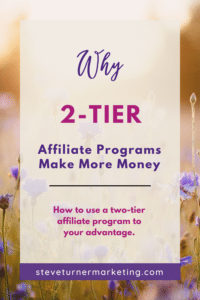 Affiliate marketing is easy to start form of marketing in which a firm pays an affiliate for referring clients to them.
Most affiliate marketing programs are simple single tiers where you make a commission when a product or service is sold.
If the product or service includes a recurring payment, you will be paid a commission each time they renew. These goods will provide you with a steady stream of cash.
How to use a two-tier affiliate program to your advantage.
Why are two-tier programs are so powerful?
A one-tier program pays you money only if you make a sale.
A two-tier program pays you a commission on direct sales you make yourself. Then when a customer you referred makes a sale, you also earn a commission.
This has the potential of doubling your income if every person you sell a product or service to also sells the product or service.
If this service is a monthly recurring payment, you are starting to build passive income quickly.
Now you can support your customer to help them make sales as this also benefits you and them.
To take full advantage of your 2-tier affiliate program, you should focus on both tiers. Firstly make as many direct sales as you can, then focus on assisting your customers in driving their own sales.
My recommended 2-tier affiliate program is Builderall because it is an evergreen offer that everyone building an online business needs.
A complete digital marketing platform with nothing else required to purchase.
Secondly, it is a monthly recurring payment system.
To demonstrate the power of the 2 tier system, try the affiliate income calculator below.
"As with any business – your results may vary and will be based on your individual capacity, business experience, expertise, and level of desire. There are no guarantees concerning the level of success you may experience. There is no guarantee that you will make any income at all and you accept the risk that the earnings and income statements differ by individual. Each individual's success depends on their background, dedication, desire, and motivation."