Affiliate Marketing To Earn Passive Income
An easy way to earn passive income is to start your own business with affiliate marketing.  The fact you can have multiple streams of income mean having financial freedom is no longer just a dream. Some say you need to have a website or a blog to start affiliate marketing. This is one way, but I can show you how to do it without either.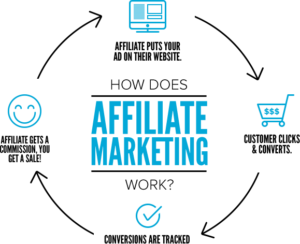 So what is affiliate marketing and how can it earn you earn passive income? Affiliate marketing is a commercial arrangement between a trade merchant and the affiliate marketer. The marketer, that is you, use all of the tools at your disposal to promote of the merchant's products by linking to the merchant's website.  This could be your blog or website, however you still need to drive traffic to your website.
The merchant pays a commission to the affiliate on all sales generated by the affiliate's referral. Every time someone clicks on the link on your website and make a purchase, the merchant will pay you commission, sometimes up to as much as 60 to 70 percent of the cost of the product. Affiliate marketing program is a win win situation for the merchant, the affiliate and the customers because all parties win. The merchant gets the sale, you get the commission and the customer gets the product of his/her choice.
Why do merchants want to have affiliates and pay off hefty commissions to you? Well, this is because there are tremendous benefits for the merchant, otherwise the merchant will have no incentive to do so, right?
Affiliate marketing program gives the merchant a wider market to advertise their products or services. Affiliate marketing will give the product or service more exposure than it may get with other traditional advertising. On top of that, the merchant can save money advertising because they are already doing so on affiliate's websites. In other words, affiliates like you are already carrying the merchant's advertisement on your sites.
Advertisement
The more affiliates a merchant has, the more people will see the merchant's advertisements, which can then be converted to sales. Some people equate affiliate marketing as having an army of sales representatives who will do the advertising and will only get a commission if a customer purchases.
You, as an affiliate of the merchant also enjoy many benefits. The affiliate can earn passive income just by simply by having an ad or link to the merchant's website, which prospective customers will hopefully click on it and make a purchase. As soon as the customer clicks on the ad or link on the affiliate's site, he is immediately transported to the merchant's website.
These potential customers are referrals from your site. When more referrals make purchases, then you will make more commissions. If you have several websites, then you will have multiple streams of passive income. What a wonderful way to earn money isn't it?
From the comfort of your home affiliate marketing is an excellent way to earn passive income. It is your personal home business and there are virtually no production cost and investment risks. The product is already developed and stocked by the merchant, so all you have to do is to just get as many visitors as possible to your website to click on the merchant's ads and make purchases.
Best of all, most affiliate marketing programs are free to join, so affiliates do not need to have any start up investment costs. There are thousands of products and services which you can choose to market.
If you want to start your own business without any financial risks, and earn passive income via multiple sources, try affiliate marketing.
Sounds fantastic, however things are not always as they may seem. Lets have a look at some of the realities you will face.
It's not easy to come up with an attractive but free offer that can entice the visitor to subscribe.


It's not easy to create a top landing pages that can convert subscribers very well.


It's even harder to create a top sales page that has a high conversion rate.


Newbies do not have authority in their niche, and are unlikely to "command" any attention from visitors and subscribers.


Do you know which are the best products or affiliate programs to promote… or how to promote them effectively?


Do you have the technical software and know-how to get started – domain name, hosting, build a website or blog, an auto-responder for emailing and so on?


The time to create new content to give to their subscribers. Without ongoing content, you'll lose the subscribers quickly.


Not only do you need to build a list, to earn passive income you will have to master the art sending carefully crafted emails.


It's not entirely true that there is zero cost to start a solid internet business. There are costs involved, domain names, hosting fees and autoreponders to name a few.


Perhaps the most complex matter of all is structuring a SYSTEM to earn passive income that can run on auto pilot.
Look up and read the stories of almost any successful internet or affiliate marketer, and they all tell a similar story. Struggled for 1 or 2 years, earned next to nothing, then discovered the secret code or software that will help you overcome the odds.
Always remember that it will take some serious effort to compete on the internet and there are ways to leverage the experience of these internet marketers.
I'm going to share with you how you can earn passive income from the internet by cloning an entire Internet Business System today.
To your success,
SteveT