DISCLOSURE: THIS POST MAY CONTAIN AFFILIATE LINKS, MEANING I GET A COMMISSION IF YOU DECIDE TO MAKE A PURCHASE THROUGH MY LINKS, AT NO COST TO YOU. PLEASE READ MY DISCLOSURE FOR MORE INFO.
3 Useful Tips For Affiliate Marketing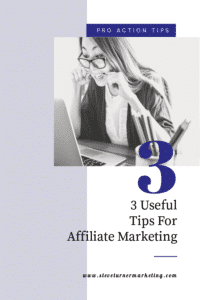 Let's look at three practical tips for affiliate marketing success. Affiliate marketing done correctly can be financially rewarding either as a full-time income or to supplement a day job for extra cash.
Mastering the craft of affiliate marketing will take some time and effort on your part. Achieving that first commission and then another, and slowly but surely seeing the success increase is gratifying.
Stay focused, and always remember far greater success comes from implementing a plan now, rather than waiting for perfection.
"Action is the foundational key to all success." – Pablo Picasso
Not everything will work as you hoped, some things may fail miserably! Learn, tweak and optimise until the sales funnel, email sequence or landing page performs favourably.
Enjoy the journey as you expand your knowledge and abilities as a marketer, putting my three useful tips for affiliate marketing into practice.
1. Promote Products Providing A Reasonable Return
Look for products or services that offer recurring commissions. In the long term, these will result in monthly commission payments on which you can rely. Examples of these include services you may use yourself, like, web hosting, autoresponders and domain name registrars. 
There are thousands of products on the market that you could review. I suggest firstly, sticking to those products you own, know and use yourself. Secondly, they pay a decent commission. Leave those that don't pay well. 
Don't avoid all low ticket items. Check whether the low-cost items are tripwires or entry products for sales funnels. Many product launches will pay much higher rates on the entry-level items to the affiliate at the beginning of the sales funnel to encourage them to promote the products and then reduce the commission on the upsells.
A $10 item might have a 30% commission, and a $100 piece might have a 10% commission. While it may be easier to sell cheap products, you will need to sell three times as many to make the same commission. On low ticket items or those at the beginning of a sales funnel, I would be looking for a commission rate of 50% to 100%.
A little know secret prevents many affiliates from achieving massive commissions. You need access to premium products with a value of $2,000 or more at the top of the sales funnel. 
Find out how you can access the big-ticket items easily.
2. Publish Numerous Reviews
Always high amongst tips for affiliate marketing is writing reviews. An evergreen strategy that has proven to work for many marketers to great success. 
Speaking from your own experience will build trust with your intended audience. You might also compare products of similar value and quality, being an affiliate of both!
Refining this technique would be highly beneficial for conversions. Using your review, talk about the benefits of a product, the value it adds or the problem it solves on a page or blog post — one product to one page.
Inform your readers about the pros and cons of the product or service you are reviewing, providing them with your insights. Build a section on your website for reviews, or create a category of posts just for product or service reviews. Make sure it's visible to your visitors. 
Your readers will come to value your recommendations. Ensure your reviews are professional and honest, enabling maximum advantage from this affiliate marketing tip.
If you are using a WordPress site, consider one of the numerous rating plugins. Utilise a plugin to rate the products you review — stars, bars or percentages indicating the quality of the product. 
Achieve the most significant boost to sales by increasing the visibility of the reviews.
Owning and using the product will result in the most useful promotion. I would not recommend anything I haven't used or tested myself.
3. Why Cloak Affiliate Links
The long links provided to you by vendors are critically important to track sales to ensure payment. A few problems using these links as they are.
The links are long causing problems where there are limited characters available such as on Twitter. The links are ugly to the eye. People have been known to remove or alter tracking IDs within the URLs.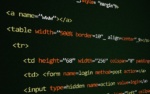 To create a shorter product link that is easier to read, we use link cloaking software. Often the simpler version of the tracking link will improve your CTR (click-through-rate).
To demonstrate, I will show you a raw tracking belonging to an offer I promote. "The Affiliate Marketers Playbook".
https://rn132.isrefer.com/go/ampoffer/sttu/amp01-text Is my tracking link directly from the vendor.
https://steveturnermarketing.com/amp-offer/ The link now looks like part of my domain using a WordPress plugin called Pretty Link.
https://stm2.biz/amp-mb is another version of the same link shortened by a URL shortening service called Link Wizard.
There are many good software link cloakers, and if you are using WordPress, then I would recommend a plugin called Pretty Link.
Vendor links are not the only links you will want to shorten or cloak. Tracking your own sales funnels, retargeting pixels and audience segmentation for advertising will lengthen your URLs. https://steveturnermarketing.com/amp-offer/?utm_source=newsletter&utm_medium=email&utm_campaign=amp_offer&utm_content=internet_profits_sequence
For advanced marketers, create an account with Link Wizard  HERE, and see what is possible in tracking your sales funnels.
Tips For Affiliate Marketing Summary
Choose your affiliate products wisely. Aim to build a rewarding income stream and don't try and sell the products; recommend and promote a value proposition to your readers. Continually test products to see how well they do in the marketplace. Sometimes those products you think will do well, don't do that well but you won't know this unless you test.
Comment below if you found value in these three useful tips for affiliate marketing. Please share and like the post. 
Ask me what I can do to help you generate more income from your affiliate marketing programs.
Regards,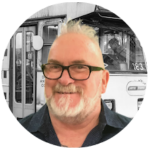 Hi, my name is Steve and I would love to help you with affiliate marketing.  If you are interested in making money online and living the lifestyle you would like, please check out my other posts.
DISCLOSURE: THIS POST MAY CONTAIN AFFILIATE LINKS, MEANING I GET A COMMISSION IF YOU DECIDE TO MAKE A PURCHASE THROUGH MY LINKS, AT NO COST TO YOU. PLEASE READ MY DISCLOSURE FOR MORE INFO.