Do You Need A Blog To Be An Affiliate Marketer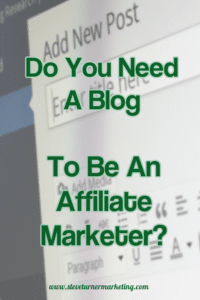 The short answer is NO. To be an affiliate marketer, you do not need a blog. Bloggers do not have to be affiliate marketers to monetize their blogs.
The long answer is there are compelling reasons why you need a blog!
As a new affiliate marketer, it can be hard to build a following. How can you get people to commit and follow a content marketing program? 
Why You Need A Blog
Writing a blog is highly recommended as an organic traffic source. Costs are minimal, other than a time commitment. This valuable asset can be a solid base on which to spearhead a variety of different campaigns.
Starting a blog is the definitive answer. Still, it is not the only approach to building an audience — many regard social media as necessary.
The issue is that social media typically has less substance than a personal blog. So affiliate marketing via social media will often be flashy and superficial compared to a blog or a personalized email campaign.
The goal is to build a following aligned with your branding or sales strategy, regardless of platform.
Start by creating relevant content to attract engagement. The more people resonate with your content, the more valuable they will become as part of your network. 
Add their interests to your content, and you get the potential for long-term relationships. But on which platform should you post your content?
 Should you take the blogging route? 
The best question is this: Would you be willing to spend 50% of your time blogging instead of selling?
An excellent blog will build a following. Most of the top influencers online have blogs. Read and follow the blogs of people within your niche, and contribute by posting informative, relevant comments on their blogs. 
Are you looking for some great examples? Essential Traits of 8 Amazing Affiliate Blogs
Get to know the people that follow you, and follow them back. Write regularly and consistently. Develop a plan, but I would suggest posting once a week as a minimum. 
The goal is to produce and give away as much valuable content as possible. You will need a blog to accomplish this effectively.
Develop technical skills. There are a lot of tools to write about, find, embed, and organize, and you need to learn some of these tools to keep up.
To succeed, you must put your truth out there with integrity and all the bold honesty you can muster. Be truthful, and don't make out to be someone you're not. Being a content maven is not different from being a visual artist or a music artist. You are a creative professional. 
Be smart about your referral strategy. Use the blog as the anchor for Youtube, Pinterest, Instagram, Twitter or a Podcast to give you a few ideas.
Every blog post should have a clear Call To Action, which does not have to be an affiliate link. Offer an attractive lead magnet related to your article to encourage building your list, for example.
Reports, checklists and software are all the valuable content you can give your readers.
Ensure the great content you are giving away is relevant to the people interested in your brand. 
Send out "one-time-only" email broadcasts when you have a special offer or release a new blog post. Write compelling headlines, and don't use "clickbait" or extravagant claims.
Share content with your Facebook page, Twitter feed and LinkedIn profile, even if it's just a preview of your blog post. Post images and pins you create to Pinterest and Instagram.
Show your value to your visitors. Provide something of value.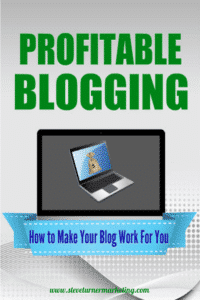 Encourage engagement by asking for comments and feedback, and make it easy for them to do with social sharing buttons.
I regularly ask friends to get the word out about me through social media. I have seen fantastic responses from people I didn't know were reading my blog.
Click Here to download my free report, Profitable Blogging.
Regards,
Steve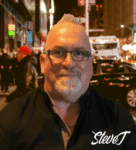 P.S. Please submit any comments or feedback on why you need a blog below, and like and share this post.