Is Product Dyno Worth Buying – Does It Offer Value For Money?
It's probably fair to say many of us first heard of Product Dyno as we are on someone's mailing list, or were chasing up new product launches. Quickly over the internet, there was a swelling sentiment that this would be hugely beneficial to those selling digital products online.
Like many consumers, I researched the product, read all the reviews I could find and tried to find out for myself really, just what does it do?
Let's just say I saw an opportunity to purchase this product and if it was half as good as the reviews I had read, I would be happy.
Now I have Product Dyno and used it myself. Let's run through the details.
This is a platform for vendors and has been designed for those of us marketing digital products. To easily get our creations such as membership web sites, apps, videos, eBooks software into the hands of our customers.
If we're asking about freebies or lead magnets. These are also easily distributed through the platform. This greatly increases the chances of conversions. As your subscribers access the valuable content Product Dyno can promote the associated related products.
Two essential functions are built into the software to assist vendors to market their merchandise in a secure and efficient manner.
Password-protected logins are delivered via email to your customers to access the products they have paid for.
Expiring links are provided for downloading the content purchased. This is designed to prevent people from revealing the links all across the internet.
All your payment processors, autoresponders and content management are integrated into one convenient platform. Any of your products can be associated with any of the services you have connected within your dashboard conveniently in one location.
Product Dyno Releases WordPress Plugin Click Here For Details
Back to my original question…..
How Does Product Dyno offer value for money?
Product Dyno possesses an intuitive, user-friendly interface. The learning curve is minimal allowing you to jump right in have your account setup. Connect your service providers and begin adding your products.
Integrations with many major autoresponder services
Active
Campaign
Aweber
Constant Contact
ConvertKit
Get Response
iContact
Mail Chimp
Sendlane
Connections to your preferred payment processors
ClickBank
GumRoad
Paddle
PayPal
Stripe
ThriveCart
Don't panic if your particular service is missing from the list. These are being updated by the developers as requests are made for different providers.
Securing Your Valuable Content
Securing your content with a multitude of different options makes Product Dyno extremely flexible.
Easily secure content on your own domain with the addition of some code to your sales delivery page.
Choose whether or not you want to host the delivery pages.
Product Dyno adds an additional layer of protection to your valuable content secured in your Amazon Web Services (S3) account.
For software developers, Software as a service (SaaS) can be licensed within the system included licensing feature. Access to applications can be removed if a purchaser decides they no longer want the software.
Automating Your Business Processes
Saving time by automating many of the typical marketing activities we undertake. Zapier is an automation application that integrates directly within Product Dyno. Customer support, promotions, analytics, building email lists and many other functions could all be automated.
From a beginners perspective, if sales pages were included, it would be fully hosted sales solution.
At this time in its development, there are not a lot of different templates for the delivery pages. Those provided are easy to customise and professional looking. If you like more control, host the sales delivery page yourself!
These templates will be suitable for most vendors, especially if you want to take advantage of Product Dyno hosting your content.
Value For Money
I would have to say after using Product Dyno, this platform is definitely value for money.
If you are offering any form of digital merchandise for sale and are looking for a one-stop location to manage, protect and deliver your content. This is it!
It's not necessary to be a technical whiz. If you can "point and click", you can easily set up, protect and securely deliver your goods.
Do yourself a favour and check it out HERE
Don't Hesitate, There is Bonus Valued at $299 for Action Takers When Creating Your Product Dyno Account… Don't Miss Out – It Won't Last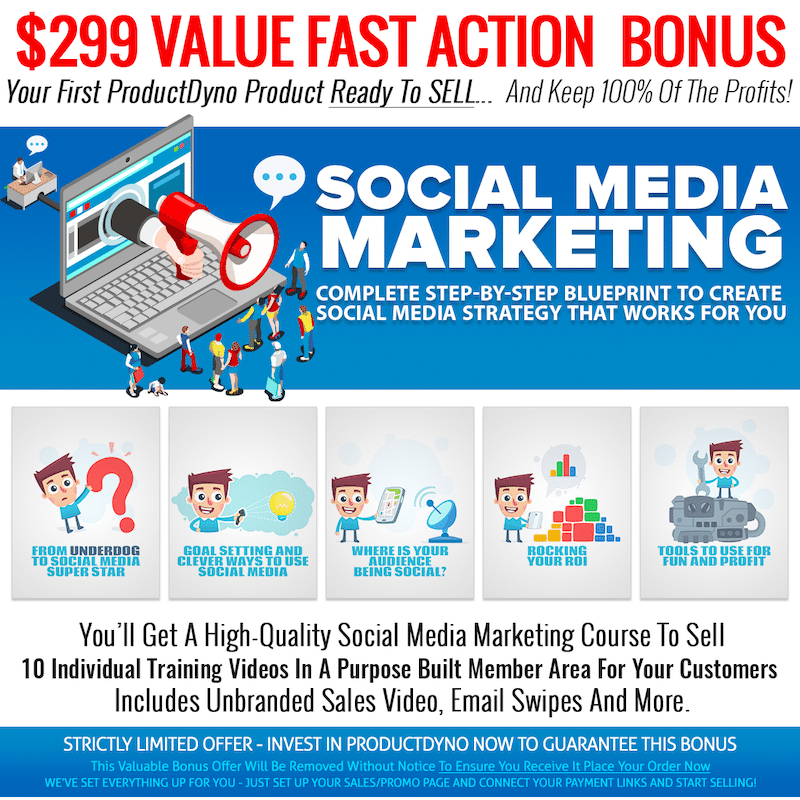 Looking to boost traffic to your sales and lead pages try, using this viral rewards platform.
To your success,
SteveT