DISCLOSURE: THIS POST MAY CONTAIN AFFILIATE LINKS, MEANING I GET A COMMISSION IF YOU DECIDE TO MAKE A PURCHASE THROUGH MY LINKS, AT NO COST TO YOU. PLEASE READ MY DISCLOSURE FOR MORE INFO.
The Builderall Funnel Challenge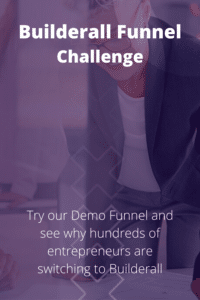 In case you don't know, The Builderall Funnel Challenge demonstration sales funnel makes it easy to test-drive a complete sales funnel.
Complete the entire funnel from beginning to end and see why hundreds of entrepreneurs are switching to Builderall. At the completion, you can download the sales funnel for yourself.
As part of the product delivery functions, you are also enrolled in an e-learning course by Erik Salgado, CEO of Builderall. Erik will teach you how to build the entire funnel yourself.
The Builderall Funnel Challenge is provided by Builderall. This all in one digital marketing platform contains all the tools you need to create anything from a simple website to the most sophisticated sales funnel.
This is a fantastic demonstration because nowhere else is there a single platform that can build a funnel like this. You are being offered a unique opportunity to not only test drive the complete sales-funnel, but also the ability to download it for yourself complete with training on how to build the exact same funnel for free.
Here's the bottom line for you: this is the perfect tool to explode your business with the most powerful digital marketing platform without all the marketing hype.
What makes this demonstration sales funnel genuinely stand out is there is no need to go outside the platform for any of the tools required. From the drag and drop page builder, the Telegram integration, email autoresponder and automation, webinar tools and learning platform is all available for one low monthly price. 
Many of the tools within the platform cost more per month on their own than the complete Builderall platform.
Something Builderall does that you might not recognize at first is the platform is already integrated with SMS messaging, and this can also be automated through MailingBoss. 
This feature alone opens up a whole new realm of personalized marketing with your contacts via their smartphones all within the one platform.
Now I will tell you that this is NOT for people who have no desire to succeed online.
This demonstration sales funnel for marketers and entrepreneurs who wish to take their business to a whole new level through a high converting sales funnel.
The thing I love most about it is a fact I can actually see how every piece of the funnel is put together and how it works. To be given not only the funnel but a complete series of 30 short easy to absorb training videos is absolutely unbelievable.
One thing that's not perfect does take some time to go through the complete training.
From my perspective, that's not a big deal because there is nothing worse than having to try and figure out by trial and error how something is put together or works. While it takes some time to go through, having the complete training series to be able to refer back to is actually a bonus.
I personally have used this demonstration sale funnel to learn how to build funnels of my own. The Builderall Sales Funnel Challenge is also useful to teach others how to build sales funnels for implementation in their own businesses. 
The demo sales funnel makes an excellent tool for Builderall affiliates to showcase the power of Builderall to potential clients for their business.
A premium plan of $69.90/month is required for all the features to build the complete sales funnel. This is less than some individual tools cost on their own from other software developers.
When you compare The Builderall Funnel Challenge to the basic price for ClickFunnels of $97 per month yet does not have all the features of Builderall. 
In fact, the top plan for ClickFunnels is $397 per month and still does not have all the integrated features of the Builderall platform.
For a limited time, you can lock in your discount price of only $69.90 a month! The rate will be increasing shortly, but loyal customers like yourself get to keep the discount price you signed up at, FOREVER!
If you want more details test drive the demo funnel HERE.
Please leave any comments below, like and share with anyone you think may need a sales funnel.
To Your success
SteveTurner